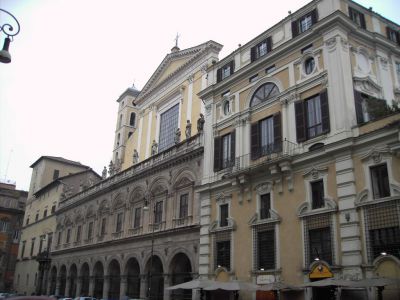 Palazzo Colonna (Colonna Palace): Ann meets the Press, Rome
The grandest family in Rome, the Colonna family, constructed for themselves the grandest private palace in the city—a magnificent blend of 17th and 18th-century buildings that has remained in the possession of the Colonna family for over 20 generations. This immense palatial residence stands proudly, facing Piazza dei Santi Apostoli on one side and the Quirinal Hill on the other. A small bridge over Via della Pilotta connects the palace to the gardens on the hill. While the palazzo still serves as the home of some Colonna patricians, it also houses an exquisite art gallery, welcoming the public on Saturday mornings or by guided tour on Friday mornings.

The gallery itself emanates an aura of aristocratic grandeur. You may recognize the Sala Grande as the very location where Princess Ann meets the press in the beloved film "Roman Holiday", ultimately making her heartfelt decision between love and duty. The closing scene, etched vividly in memory, depicts Gregory Peck walking alone through the empty hall, his footsteps resonating against the remarkably tall walls adorned with multiple levels of paintings.

At one end of the gallery stands an ancient red marble column, which bears the family's emblem. However, the most spectacular feature is the ceiling fresco depicting the Battle of Lepanto, a masterpiece painted by Giovanni Coli and Filippo Gherardi, commencing in 1675. The gallery further exudes opulence through its collection of works by renowned artists such as Poussin, Tintoretto, and Veronese, as well as proudly displaying numerous portraits of illustrious family members, including Vittoria Colonna, the muse and dear friend of Michelangelo.

Guided tours in English are available, included in the entrance fee, to assist visitors in navigating the impressive array of artworks featuring madonnas, saints, goddesses, popes, and cardinals. Notably, within the gallery, one can admire Annibale Carracci's poignant painting, "The Beaneater," portraying a solitary figure with a spoon in hand and a missing front tooth. To enhance the experience, the gallery also houses a delightful café with a pleasant terrace, providing a charming setting to relax and savor the surroundings.
Palazzo Colonna (Colonna Palace): Ann meets the Press on Map
Walking Tours in Rome, Italy
Useful Travel Guides for Planning Your Trip
---