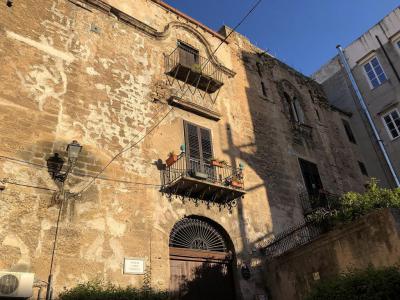 Palazzo Conte Federico (Count Federic Palace), Palermo
(must see)
Like to know how the upper 1% live in Sicily? You can be the guests of Count and Countess Federico and they will give you a tour of their ancient homestead.

The Conte Federico Palace is located between Biscottari Street and Conte Federico Square, a short walk from Palermo Cathedral. The palace is built over the remains of the Punic-Roman walls that once surrounded the city. Its 12th century Arab-Norman tower, Busuemi Tower, encapsulates the ancient Arab gateway, Bar el Soudan.

The Palace was acquired by the Federico counts in the 17th century. The counts bought the hospice of Busuemi Port from the Olivetan Fathers of Santa Maria della Spasimo. There is an internal courtyard with stone carvings by Giuseppe Venanzio Marvuglia. A red marble staircase leads to the main floor and halls decorated in different styles.

The halls have the original furnishings of the eras they represent. There are coffered ceilings of the 15th century, frescoes by Vito D'Anna of the 18th century, and several collections of weapons and ceramics. A must visit room is the dance gallery. The gallery holds a grand piano played by Wagner in 1882.

The Count and Countess will personally receive visitors. Look forward to an evening aperitif in the Arabic-Norman tower and a candle light dinner in the Baroque dance hall. Tours can be arranged for groups and the old kitchen is used for Sicilian cooking classes.

Sounds like a winner. Ciao!
Palazzo Conte Federico (Count Federic Palace) on Map
Walking Tours in Palermo, Italy