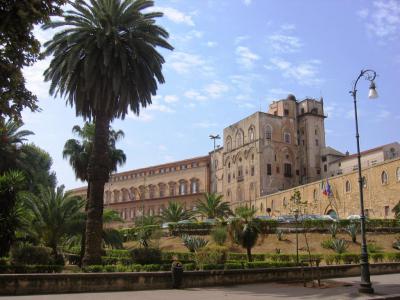 Palazzo dei Normanni (Norman Palace), Palermo
(must see)
Sicily is a reef of survival in all the tsunamis of war and invasions that have washed over the island since ancient times. Successive invasions have ebbed away, leaving behind architecture, culture and DNA.

In the ninth century, on the highest point in the center of the old city, on top of Punic ruins, the Emir of Palermo built his Castle. Pieces of the Punic settlement and the Arab castle can be found under the foundations of the Norman Palace.

The Normans conquered Sicily in 1072, shortly after they had vanquished Saxon England. They established the County of Sicily with Palermo as the capital. They then gave the castle a complete do-over. It was to be the Royal Residence of the Norman kings.

The palace became a complex of buildings connected by arcades. The compound was established as a residence and administrative center wrapped in gardens. In 1132 King Roger II added the fabulous Palatine Chapel, the crown jewel of the Palace. It was consecrated in 1140. He wanted a family chapel.

In reality, the chapel is a three-story basilica. Dedicated to Saint Paul, it is a splendid example of the Arab-Norman-Byzantine architectural styles of 12th century Sicily. The dome, transept and apse are covered with Byzantine mosaics portraying "Christ Pantocrator", the Evangelists and scenes from the bible.

The Angevins, the Aragonese and the Swabians came and went. Spanish viceroys used the Palace as a military HQ. The Bourbons created the Red Room, the Yellow Room and the Green Room and redid the Hall of Hercules, known for its frescoes of Hercules. Then there are the Hall of the Viceroy, the Hall of the Winds and the Hall of Pompeii.

The Maqueda Courtyard and the Courtyard of the Fountain within the Palace are courtyards with three levels of Renaissance loggias and staircases. Of the original four towers, only two, the Pisan Tower and the Treasure Tower, remain.

The Palace is located at the Parlemento Square. The visitor entrance is at the Independence Square.

Why you should visit
If you take in nothing else in Palermo, this is a must. Everything Sicilian is here, past and future.
Palazzo dei Normanni (Norman Palace) on Map
Walking Tours in Palermo, Italy