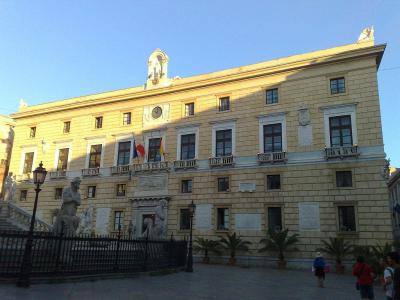 Palazzo delle Aquile (Palace of the Eagles), Palermo
The Palace of the Eagles is also known as the Praetorian Palace. It houses the mayor's offices and the municipality offices. The palace was built between 1463 and 1478. In 1553, the facade was renovated, and the palace was expanded. Additional renovations took place in the 1600s and 1800s. As a result, the palace now has a Renaissance-Revival-Neoclassical style.

Above the main entrance door, visitors will find a wonderful marble relief depicting an eagle. On the main facade's cornice, visitors will notice the statue of Saint Rosalia.

Carlo d'Aprile crafted this impressive statue in 1661. The clock under the statue came from Paris in 1864 and is flanked by lions. The facade also features four angels decorated with four eagles.

The palace's interior houses several important artworks. Richly decorated portals feature Latin quotes. Several statues are also on display, including the small Genius of Palermo statue, which dates to the 15th century.

The ornate Baroque portal on the ground floor was built in 1691. Several of Napoleon's weapons are on display. In addition, the entire palace is filled with elaborate frescoes, reliefs, and intricately painted ceilings.
Palazzo delle Aquile (Palace of the Eagles) on Map
Walking Tours in Palermo, Italy