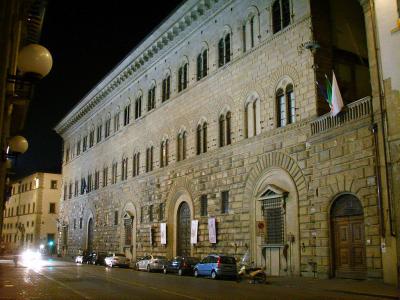 Palazzo Medici Riccardi (Medici Riccardi Palace), Florence
The first Medici palace, once the residence of Cosimo the Elder and Lorenzo the Magnificent, stood as a thriving hub for numerous prominent Renaissance artists, among them the prodigious Michelangelo, who was discovered by Lorenzo while still in his formative teenage years.

This grand edifice, an imposing spectacle of its time, set a new standard with its three tiers of progressively textured stonework and sizable, evenly spaced two-light windows. A magnificent cornice crowns the entirety of its exterior, exemplifying its resolute presence. The building encompasses an elegant square courtyard at its core, a stark contrast to the commanding impression projected by its façade. Together, they symbolize the duality of the Medici family, projecting an image of wealth, influence, and even ruthlessness to the outside world, while fostering an atmosphere of refinement as patrons of the humanist Renaissance within their sanctuary.

While the courtyard and gardens offer a delightful and complimentary experience, it is certainly worthwhile to invest in the admission fee and ascend to the upper rooms. These spaces exhibit designs, decor, style, furnishings, and collections that bear testament to the profound power, far-reaching influence, and immense wealth of the Medici dynasty.

A hidden gem within the palace, the Magi Chapel, mesmerizes with its diminutive size yet resplendent floor-to-ceiling frescoes by the gifted artist Benozzo Gozzoli. The intricate details within the artwork, such as the elaborate costumes, depictions of animals, and picturesque scenery, captivate the observer's gaze. One can spend an hour studying the reputed likenesses of various members of the illustrious Medici clan, along with notable figures like the Wolf of Rimini: Sigismondo Malatesta. The vibrant colors – considering the work was started in 1459 – create a visual feast where the composition unfolds in a bit of a whirlwind.

Near the end of the tour is the astonishing Galleria, a completely "over-the-top" Baroque marvel, resplendent with walls covered in shimmering gold and a grand domed ceiling adorned with scenes from Greek mythology. Additionally, there is an underground sculpture museum, housed within the former stables. Fortunately, there are minimal queues for entry, allowing visitors to relish the magnificence of the rooms comfortably and at their leisure.

Tip:
To gain entry into the building, it is advisable to queue up in the courtyard, at the base of the staircase.
Palazzo Medici Riccardi (Medici Riccardi Palace) on Map
Walking Tours in Florence, Italy
Useful Travel Guides for Planning Your Trip
---