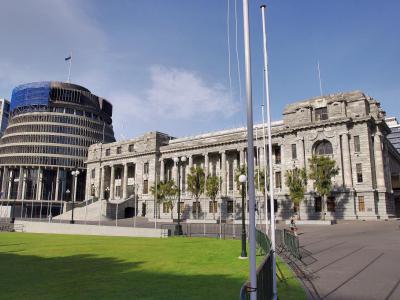 Parliament Buildings, Wellington
(must see)
Situated on a 45,000 square meter site, The Parliament Buildings house the New Zealand Parliament. The Parliament Buildings include: the Parliament House, the Executive Wing, the Parliamentary Library and Bowen House. An earlier wooden Parliament House was destroyed by fire in 1907 along with all other parliament buildings except the library. A competition to find a replacement design was announced by Prime Minister Joseph Ward in February 1911 and 33 designs were entered. The winning design, by Government Architect John Campbell, was selected by Colonel Vernon, former Government Architect for New South Wales. As another of Campbell's entries won fourth place, the actual design is a combination of both entries. The design was divided into two stages. The first half, a Neoclassical building, contained both chambers and the second half Bellamy's and a new Gothic Revival library to replace the existing one.

Despite cost concerns, Prime Minister William Massey let construction of the first stage begin in 1914, but without much of the roof ornamentation or the roof domes. The outbreak of World War I created labour and material shortages that made construction difficult. Although the building was unfinished, Members of Parliament moved into it in 1918 to avoid having to use the old, cramped Government House (which housed the Governor). In 1922, the first stage was completed (the second stage was never built). The building was finally officially opened in 1995 by Queen Elizabeth II, Queen of New Zealand, after its comprehensive strengthening and refurbishment.

The land intended for the second stage of Parliament House is occupied by the Executive Wing. This building conceived by British architect Sir Basil Spence in 1964, largely designed by the Ministry of Works, was officially opened by Elizabeth II, Queen of New Zealand in 1977. The government moved into the building in 1979. Due to its distinctive shape, it is referred to colloquially as "The Beehive".

Completed in 1899, the Parliamentary Library is the oldest of the buildings. It stands to the north of Parliament House (to its right, looking from the front). The library was designed in Gothic revival style and was fire resistant, being constructed of masonry. The third story of the design was not built to save money. It had an iron fire-door separating the library from the main entrance section. This saved the library from the fire of 1907 which destroyed the rest of the (wooden) parliament buildings. Coincidentally, exactly the same thing happened in Ottawa in 1916—with fire doors saving the Library when the Centre Block of the Canadian Parliament burned. Like Parliament House the library was strengthened and refurbished in the 1990s. It still houses Parliament's library.
Parliament Buildings on Map
Walking Tours in Wellington, New Zealand