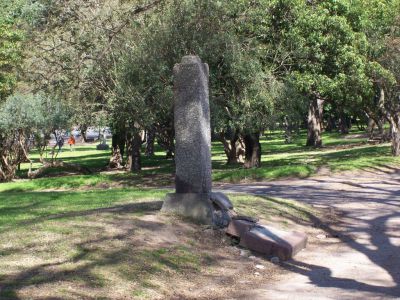 Parque Battle, Montevideo
Parque Batlle (formerly: Parque de los Aliados) is a barrio and a major public central park in Montevideo. It is named in honour of José Batlle y Ordóñez, President of Uruguay from 1911–1915. The park as seen now covers an area of 60 hectares (150 acres) and is considered the "lung" of the Montevideo city owing to the large variety of trees planted here. Home to the Estadio Centenario national football stadium as well as the national monument "La Carreta", it also has high density residential living space. Along with Parque Prado and Parque Rodó, Batlle is one of three large parks that dominate Montevideo.

The park contains the 70,000 seat Estadio Centenario, built for the first soccer world cup in 1930, which is both the national football stadium and it contains a football museum. There is also the Tabaré Athletic Club which is occasionally made over as a carnival theatre using impermanent materials. The Municipal Velodrome, two smaller stadiums (the Parque Palermo and the Parque Luis Méndez Piana), and a target shooting facility are additional attractions. In 1934, "La Carreta", a bronze monument on granite base by José Belloni was introduced. The monument, one of several statues in the park, is located on Avenida Lorenzo Merola near Estadio Centenario and depicts yoked oxen pulling a loaded wagon. It was designated a national monument in 1976. Another statue in the same side of the park is a bronze copy of the Discobolus of Myron.
Sight description based on wikipedia
Walking Tours in Montevideo, Uruguay