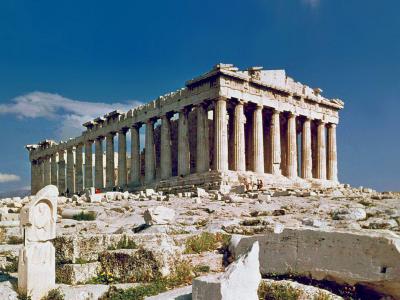 Parthenon, Athens
(must see)
Perched right at the top of the Acropolis, overlooking the city of Athens, the ancient Greek temple, Parthenon, is one of the most iconic and well-preserved examples of classical architecture, renowned for its historical and artistic significance. Built in the 5th century BCE during the leadership of the Athenian statesman Pericles, it replaced an even older temple dedicated to Athena, the city's patron deity and the goddess of wisdom and warfare. Covered in ivory and gold, her 12-meter-high statue—"Athena Parthenos"—took center stage.

At the time, Athens was at the height of its power and influence, particularly after its victory in the Persian Wars and the establishment of the Delian League, an alliance of Greek city-states. The temple's construction was not just a religious endeavor but also a political statement, symbolizing the city's wealth, cultural achievements, and its leadership in promoting democracy and the arts.

A prime example of Doric architecture, the structure was constructed using high-quality Pentelic marble, which contributed to its enduring beauty and structural integrity, even as it was turned into a church during the 5th century and later into a mosque under Turkish rule. In 1687, during the Venetian siege of the Acropolis, the temple endured substantial damage from bombardment. Further harm occurred in the early 19th century when Lord Elgin looted much of its sculptural decoration, which now resides in the British Museum.

Despite these adversities, the Parthenon endures as one of Greece's most significant surviving architectural monuments and, over the years, has served as a source of inspiration for many public buildings worldwide, including parliaments, universities, museums, and libraries. Recent renovations continue to reveal the timeless beauty of this masterpiece.

Why You Should Visit:
One of the world's most renowned structures, originally constructed as a testament to the glory of ancient Athens and still serving as the city's emblem today. The panoramic views of the city from this vantage point, one of the highest in Athens, are undeniably beautiful.

Tips:
Plan your visit to the Acropolis early in the morning to avoid long queues. The site has two entrance gates; ensure you enter and exit through different gates to fully explore the site. Consider purchasing a combination ticket, which covers entry to other attractions, including the Odeon of Herodes Atticus, Theater of Dionysus, Temple of Olympian Zeus, and Ancient Agora of Athens, saving you money.
Walking Tours in Athens, Greece
Useful Travel Guides for Planning Your Trip
---