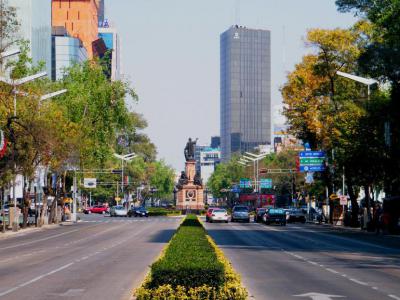 Paseo de la Reforma, Mexico City
(must see)
Inspired by the grandeur of the Champs-Élysées in Paris, Paseo de la Reforma (Promenade of the Reform) serves as the principal thoroughfare in Mexico City, passing through the Historic district, as well as hosting Embassies and upscale residential buildings. Originally known as the Paseo de la Emperatriz or the road of the Empress, this splendid avenue was envisioned by Emperor Maximilian I of Mexico. Its purpose was to connect his residence at the Chapultepec Castle to the National Palace, which stands adjacent to the Zocalo. However, during President Benito Juarez's reformist era, the avenue underwent a transformation, becoming the Paseo de la Reforma we know today. The avenue's layout, crafted in 1860 by Ferdinand Von Rosenzweig, stands as a testament to its timeless elegance.

Stretching 15 kilometers in length and boasting a width of 60 meters, Paseo de la Reforma encompasses 6 to 8 traffic lanes, along with a prominent green strip running through its center, distinguished by a unique design. At the intersections, one can find grand roundabouts adorned with striking monuments. These monuments feature busts of revered figures who have played instrumental roles in shaping the history of Mexico.

In the present day, Paseo de la Reforma has evolved into a bustling hub, home to prominent office buildings, museums, impressive monuments, luxurious hotels, and vibrant cinemas. Moreover, it proudly hosts the embassies of notable nations such as the United States, the European Union, and the Mexican Stock Exchange.

With its rich historical legacy and modern-day significance, Paseo de la Reforma stands as a testament to the harmonious blend of Mexico's past and present, attracting visitors and locals alike to partake in its grandeur and cultural significance.

Tip:
On Sundays, the avenue closes down to cars so that multitudes of people can ride bikes, walk, jog, rollerblade or stroll down the street from the park all the way up to the historic center.
You can pay for bike rental or get one for free (first come, first served) if you bring your ID/passport and arrive early.
Paseo de la Reforma on Map
Walking Tours in Mexico City, Mexico
Useful Travel Guides for Planning Your Trip
--- Souvenir Shopping Guide: 17 Must-Buy Local Products from Mexico City
Both historic and modern day Mexico's are worth each other in terms of cultural and artistic heritage. The country's capital Mexico City is a showroom of what the label "Made in Mexico" stands for in its entirety. Whether it's authentic food, drink or piece of craftsmanship... 10 Must-Try Mexican Foods in Mexico City
While Mexico is a treasure trove in terms of cultural and artistic heritage (ancient history, architecture, etc.), the vast majority of visitors to the country are lured mainly by, let's face it, bodily pleasures. The latter are manifested in the form of sandy beaches, sun and, most...