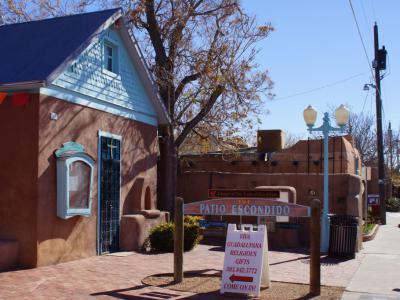 Patio Escondido Mall, Albuquerque
The Patio Escondido Mall is a series of shops and residential spaces in Old Town Albuquerque. The Albuquerque Museum is also located on the Patio Escondido grounds.

The buildings in which the mall is now located was once a sacred arts school called the Sagrada. It was founded by Sister Giotto Moots in order to promote artistic expression. The campus included an art gallery, dining hall, two residential studios and the Capilla de Nuestra Senora de Guadalupe.

The Capilla de Nuestra Senora de Guadalupe continues to be open to the public. In addition, there are several commercial merchants. Much of the rest of the Sagrada was redeveloped into private townhouses.

Most of the merchants within the Patio Escondido Mall focus on art and jewelry designed by local artists. There is also a shop that specializes in upcycling fabrics. One store celebrates Albuquerque-based "Breaking Bad," which is often said to be the best television show of all time.
Patio Escondido Mall on Map
Walking Tours in Albuquerque, New Mexico