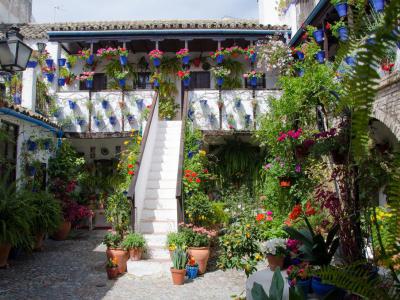 Patios de Cordoba (Cordoba Cortyards) and San Basilio Patio 44, Cordoba
(must see)
The summer climate around Cordoba has been hot and dry for as long as one can remember. The Romans, Visigoths, Muslims, and Andalusians built their houses to provide light, ventilation, and a refuge from the constant sun.

The typical design favored in Old Cordoba is an inner courtyard. There was a fountain on the patio and a well or basin to collect rainwater. Islamic designers added a porticoed vestibule that leads from the street to a courtyard filled with flowering plants.

San Basilio Patio 44 (formerly 50), in the San Basilio district, is a must-see patio of Cordoba. It is the home of the Friends Association of Cordoban Patios. House number 44 dates from the 15th and 16th centuries.

Entering through the porticoed vestibule, the visitor finds the patio. The courtyard, surrounded by a two-story edifice, dates from the 15th century. The ground floor houses studios and shops demonstrating Cordoban artisanship and selling typical Codoban products.

Since 1921, the Town Hall has managed the Courtyards and Crosses Festival held in the first weeks of May. Homeowners decorate their houses and patios with flowers in beds and pots. There is singing, dancing, wine and tapas, and a lot of enthusiasm.
Patios de Cordoba (Cordoba Cortyards) and San Basilio Patio 44 on Map
Walking Tours in Cordoba, Spain