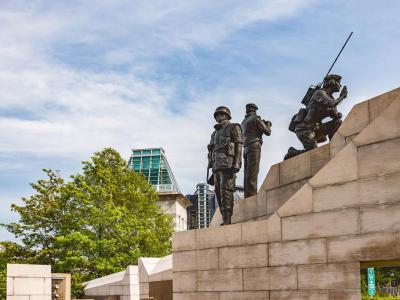 Peacekeeping Monument, Ottawa
The Peacekeeping Monument in Ottawa is a significant structure that pays tribute to Canada's contributions to international peacekeeping efforts and honors both past and present soldiers who have been involved in these missions, whether living or deceased.

Positioned at a central location near the National Gallery of Canada, the American Embassy, and Major's Hill Park, this monument was constructed in 1992. The artwork was a collaborative effort of artist Jack Harman creating the three soldiers and architects Richard and Gregory Henriquez designing the site and monument structures. The landscape architect responsible for the surrounding environment was Cornelia Oberlander.

Named "Reconciliation," the sculpture portrays three peacekeeping soldiers—two men and a woman—standing on two stone ridges that traverse the wreckage of war and converge at a high point. This symbolizes the resolution and harmony that peacekeeping endeavors bring about. The base of the monument features a quote from Lester Pearson in 1956, which expresses the need for action to not only end conflicts but also to establish lasting peace. The quote is presented in both English and French translation.
Peacekeeping Monument on Map
Walking Tours in Ottawa, Canada