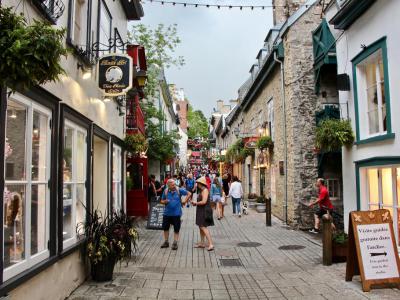 Petit-Champlain Street (Rue du Petit-Champlain), Quebec City
(must see)
A quaint narrow street at the foot of Cape Diamond (Cap Diamant), Petit-Champlain (Rue du Petit-Champlain) is a centerpiece of the tiny neighborhood of the same name, called after Samuel de Champlain, the French explorer who founded Quebec City in 1608.

Running just 814 feet (or 260 metres) long, Petit-Champlain (which means "Little Champlain") should not be confused with Champlain street further west, located in the small district of Cap-Blanc. The 1889 rockslide severed the two streets from each other.

At the southern end of Petit-Champlain, you will find a large (100 square metre/900 square foot) trompe-l'œil mural covering the side of a three-story building at No. 102. The fresco highlights the history of the neighbourhood, including the 1759 bombardments, the landslides, and the many fires that ravaged the area over the years.

At the other end of the street is the famous Breakneck Staircase (L'Escalier Casse-Cou), named so for its steepness – affording a picture-perfect view of the area.

Just beyond the staircase is the lower entrance to the Old Quebec Funicular (Funiculaire du Vieux-Québec). This electric cableway has been operating since 1879, running up and down Cape Diamond at a 45-degree angle, covering a total distance of 64 metres (210 ft).

In 2014, Petit-Champlain was recognized as "the most remarkable street" in Canada according to both public and professional polls held during the event organized by the Canadian Institute of Planners.
Sight description based on Wikipedia.
Petit-Champlain Street (Rue du Petit-Champlain) on Map
Walking Tours in Quebec City, Quebec