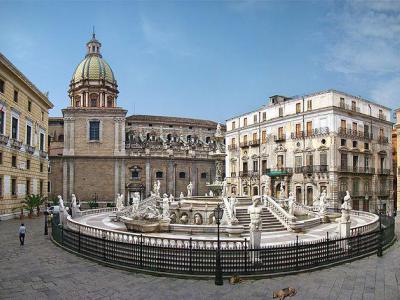 Piazza Pretoria (Pretoria Square), Palermo
In the exact center of historic Palermo is the Pretoria Square. In 1573 the senate of the city bought a fountain. Originally intended for a private garden in Florence, it was shipped piecemeal to Palermo. It didn't fit. Some buildings around the square were demolished to accommodate the fountain. There is little wiggle room left in the square.

Three sides of the square are enclosed by buildings. There is the Praetorian Palace (the town hall), which lends its name to the Square. It is also called the Palace of the Eagles. The palace was built between 1463 and 1478. It has a Renaissance Revival-Neoclassical appearance. It houses mayoral offices and weapons of the Napoleonic wars.

The Church of Saint Catherine borders the square and it is between the Pretoria Square and the Bellini Square. The appearance of the church is a mixture of Sicilian Baroque, Rococo and Renaissance elements. Two baronial manses also squeeze up to the square. They are the Bonocore Palce and Bordonarao Palace.

The remaining, fourth side of the square holds a descending staircase to Maqueda Street.
Piazza Pretoria (Pretoria Square) on Map
Walking Tours in Palermo, Italy