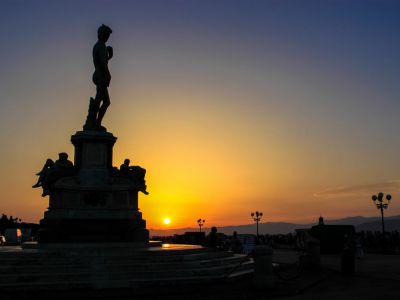 Piazzale Michelangelo (Michelangelo Square), Florence
(must see)
Florence is undeniably a stunning city, and the Michelangelo Square serves as irrefutable proof of its beauty. Designed by Giuseppe Poggi, this expansive space, adorned with souvenir stalls, offers a magnificent panorama of Florence's rooftops. The most iconic and photographed view from here showcases the Duomo Cathedral and its cupola, along with the Giotto Bell Tower and Old Pace ("Palazzo Vecchio"). Over time, this famous vista has graced countless postcards, yet other notable landmarks can also be spotted nearby, such as Fort Belvedere, the Holy Cross Basilica ("Santa Croce"), and the Old Bridge ("Ponte Vecchio").

The square itself was laid out in 1869, at a time when Florence served as the capital of Italy and the entire city underwent an urban renewal program known as the "Risanamento" or "Rebirth" of the middle class.

Dedicated to the renowned Renaissance sculptor Michelangelo, the square features replicas of some of his works found elsewhere in Florence, including the famous "David" and the four allegories from the Medici Chapel of San Lorenzo. While the originals are crafted from white marble, the bronze copies displayed here were transported uphill by nine pairs of oxen, likely leaving them rather sweaty, to fulfill Giuseppe Poggi's visionary concept.

Thousands of visitors flock here to witness the sunset, which truly is a sight to behold. Finding the perfect spot, you can revel in the sun's reflection on the Arno River while sipping a glass of wine. Bringing your own drink is a good option, unless you prefer to take advantage of the various restaurants and bars situated around the square, with the most renowned boasting a Neoclassical design. Considering the prime location, prices here are actually quite reasonable.

Midway up the main staircase, you'll discover a delightful city rose garden, where you can spend a serene half-hour strolling amidst the trees and roses, enjoying enchanting views of the Duomo and the cityscape.

After sunset, you can easily descend the hill, relishing the tranquility of dusk along the way.

Tip:
The square can be scorching on sunny days, so remember to bring a hat at the very least to shield yourself from the heat.
Piazzale Michelangelo (Michelangelo Square) on Map
Walking Tours in Florence, Italy
Useful Travel Guides for Planning Your Trip
---