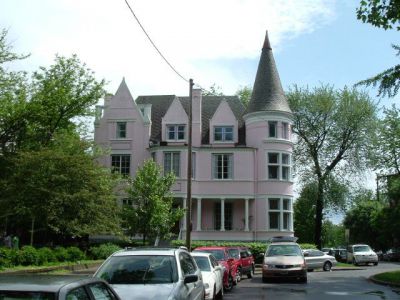 Pink Palace, Louisville
The Pink Palace is a private residence, one of the most popular in Old Louisville, that sits on the corner of St. James and Belgravia Courts. This beautiful, pedestrians-only area was developed by William Slaughter, who designed it to resemble the residential parks of London, with a central fountain and esplanade.

The towering house itself was built in 1897, in the style of French palaces featuring details of Ecletic and Chateauesque, to accommodate the gentleman's club and casino. Unfortunately, the club enjoyed the Palace only for a few years before it was sold to a new owner. In 1910, the Woman's Christian Temperance Union (WCTU) — one of the driving forces behind prohibition — purchased The Pink Palace (a red brick building at the time), unaware of its former life as a brothel. When the history of The Pink Palace was revealed to the WCTU, the women were so embarrassed they decided the only way to wipe the house's slate clean was to paint it the bright shade of pink which still decorates the walls today. Later, the property was purchased by a family who turned into their home.

Resplendent in its pink glory, for all neighbors to see and for all St. James Court Art Show patrons to ogle in envy, The Pink Palace nonetheless has the reputation of being haunted. Over 100 years since construction, the surrounding area is still the quiet, beautifully green space, just as William Slaughter intended it to be.
Walking Tours in Louisville, Kentucky