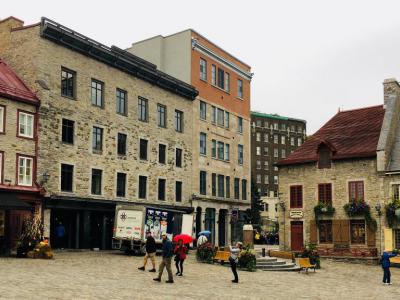 Place Royale, Quebec City
(must see)
It's not often one can visit an area in North America with a 400-year history. The birthplace of French-Canadian civilization, Place Royale is the original site of Samuel de Champlain's fort that he built on the shores of the St. Lawrence in the early 1600s. The footprint of that building is marked with black tile on the cobblestones and is particularly noticeable just in front of the stone church on the square – the oldest of its kind in N America, known as Notre-Dame-des-Victoires. At the door to the church is a bronze plaque commemorating said event, though it's unfortunately just inscribed in French.

Place Royale is quite small as it was built in the late 1600s by orders of the French "Sun King", Louis XIV, whose bust visitors can still see. What gives the square its charm, however, are probably the 2-3 story grey fieldstone row houses, all restored to their French colonial appearance with small windows, wide brick chimneys, steep roofs, and firewalls to prevent the spread of fire. Window shutters and doors are painted in cheerful colors (rose, yellow, blue, green), while plentiful window boxes are planted with colorful annual flowers. The ground floors of these homes, once owned by wealthy merchants, have shops offering art, clothing, and souvenirs.

Stop at Place Royale for some attractive photos, briefly visit the church, look at the tiled outline of Champlain's fort, and browse the shops. Not far away is one of the most stunningly beautiful murals in town called Fresque des Québecois, a three-dimensional landscape featuring landmarks and figures of Québec City's history.

Why You Should Visit:
To escape the crowds in a charming part of town. Not only beautiful but equipped with nice shops and restaurants. Feels more like Europe than anything else.

Tip:
La Maison Smith on the square here is a wonderful place to watch people go by with a cup of coffee and croissants. From there you can also easily walk to Petit-Champlain, which is a row of wonderful shops.
Walking Tours in Quebec City, Quebec