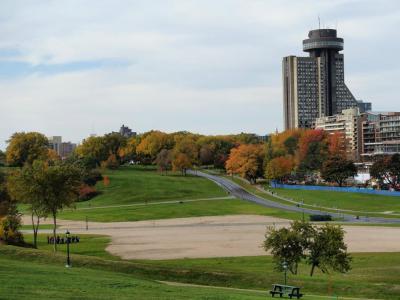 Plains of Abraham / Battlefield Park, Quebec City
(must see)
On the Plains of Abraham on September 13, 1759, the French fell to the British, forever changing the course of North American history. After Champlain's arrival in 1608, there were skirmishes on and off with the British, who at the time were fighting for control of the North American colonies against the French, but it wasn't until 1759 that the real battle took place. It was all over in 15 minutes, and five days later, Québec capitulated.

The peculiar name Plains of Abraham can be traced as far back as 1635, when Abraham Martin, a pilot of the Saint Lawrence and a friend of Samuel de Champlain, was given 12 acres of land in the area. Today there is little trace of the battle on the rolling green hills of the plains that border the cliff above the river. The grandiose stone building set back from the Plains houses the park's museum and interpretation center, which offers a multimedia exhibit of its history, from the battle to its popularity with prostitutes in the 19th century and as a choice spot for duels, hangings, and the Stanley Cup playoffs. The park itself was part of the 300th anniversary celebrations and was designed by Frederick Todd. Many of the cannons that line the park were gifts from other nations to remind people that this was once a battlefield.

If you're interested in doing more than just strolling and picnicking in the park, you can head to the Plains of Abraham Museum, where you can visit the Battles 1759-1760 exhibit, which features first-hand soldiers' accounts, battle paraphernalia, and immersive video.

Why You Should Visit:
The park is expansive and very well maintained. You can walk yourself around the battlefields without taking a guided tour as explanatory signs are everywhere.
There are all sorts of activities during the summer and holidays, as well as many quiet areas to just relax and enjoy the solitude of the area.
The museum offers a variety of exhibits and a short film about the famous battle – all worth seeing.

Tip:
Combine your visit with the Joan of Arc Garden and the Citadelle, and make sure to explore all the streets and shops nearby.
Plains of Abraham / Battlefield Park on Map
Walking Tours in Quebec City, Quebec