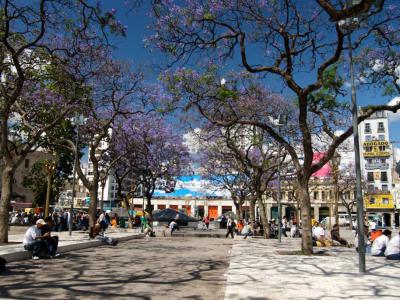 Plaza de Miserere, Buenos Aires
The Plaza de Miserere is an important square in Buenos Aires. It is one of the most visited parts of the city because of the shops and restaurants located nearby.

The Plaza de Miserere is located in the Balvanera area of Buenos Aires. It is on the site of a large mansion called the Quinta de Miserere. Miserere was the nickname of the owner of the mansion, Antonio Gonzalez Varela who was known for his mercy and bonhomie. It was the site of the re-conquest of the city after the attempted invasion by the British in 1806 and also the venue of the defeat of Spanish troops under Santiago de Liniers during the second British invasion in 1807. In 1850, it became a shopping area called the 15th September Market. In 1882, the market was closed and a Plaza was established.

In 1913, the Buenos Aires Metro Station was built under Plaza de Miserere and it was completely remodeled. The present square is the result of renovations in 1923. In 1932, a mausoleum was built for the first President of Argentina, Bernardino Rivadavia containing his ashes, although the President had died in exile in Spain with a dying wish that his remains would never be returned to the city of his birth.
Walking Tours in Buenos Aires, Argentina
Useful Travel Guides for Planning Your Trip
---