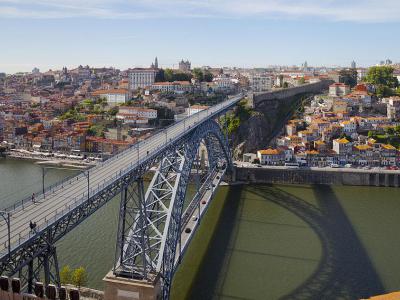 Ponte de Dom Luís I (Luís I Bridge), Porto
(must see)
The banks of the River Douro are granite. Spanning the river in two different locations less than a mile apart are the bridges of Luis I, King of Portugal and his royal bride, D. Maria Pia. The bridge of Luis looks remarkably similar to that of Maria. Both bridges have enormous iron webs and arches supporting transit over the river.

The reason they look alike is simple. The D. Maria Pia bridge was designed by Gustave Eiffel, famous for his tower in Paris. The Dom Luis bridge was designed by Teophile Seyrig. Seyrig had partnered with Eiffel on the D. Maria Pia bridge and the Eiffel Tower. The span of the Luis Bridge is 564 feet and the height is 146 feet.

A novel feature of the Luis I bridge is its two levels. One passes over the the highest point of the arch and the other hangs beneath the arch. Originally, both levels were meant for road traffic. However, today the top level carries trains of the Metro alongside pedestrian walkways. Walking on the upper level is a thrill not to be missed.

From the upper level there are matchless views of Porto Cathedral and the Tower of the Clergymen dominating the skyline of old Porto.

Why you should visit
Visit the upper level for the thrill, the view and bragging rights. It may not be the only bridge in town but it's the best.
Ponte de Dom Luís I (Luís I Bridge) on Map
Walking Tours in Porto, Portugal