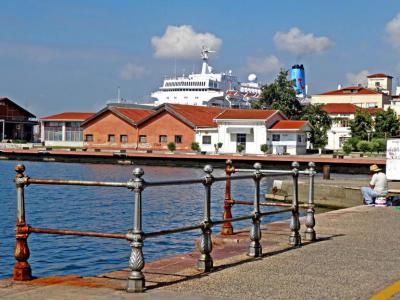 Port of Thessaloniki, Thessaloniki
Throughout its history, Thessaloniki's seaport has been a vital part of its economy. The Port of Thessaloniki serves as a gateway to the Balkans and southeast Europe. It is one of the Eastern Mediterranean's largest ports.

This busy port handles shipping containers and cargo. The port connects to the national and international rail networks for easy cargo distribution.

During World War I, the Port of Thessaloniki acted as an Allied operations base. Germany captured the port during World War II and deported Thessaloniki's Jews to Poland.

The port also has one of the Aegean Sea's largest passenger terminals. The passenger terminal is located in a historical building. It was originally built in 1912 as the customs house. Thessaloniki is a popular cruise destination, and the port is an easy distance from Thessaloniki's main attractions.
Port of Thessaloniki on Map
Walking Tours in Thessaloniki, Greece