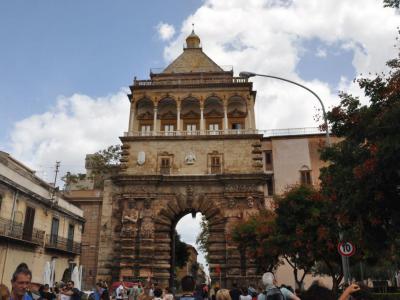 Porta Nuova (New Gate), Palermo
Charles V, Holy Roman Emperor, Archduke of Austria, King of Spain, Lord of the Netherlands, etc., etc., made so many journeys holding his empire together, he was never in one place for too long. Like a bee in a hothouse, he did a lot of pollinating. After conquering Tunis in 1535, he returned to Europe via Palermo, Sicily.

Charles entered Palermo passing through the Gate of the Eagle. The Senate of Palermo went wild. To memorialize the event, they authorized the building of a fancier gate. Marcantonio Colonna, Viceroy of Sicily, started construction in 1583. The gate was finished in 1584. He called it the Austrian Gate. The people called it the New Gate.

The gate burned down in 1667, so the Senate once again authorized building and they commissioned Gaspare Guercio to do the job. He finished the rebuilding in 1669.

The facade leading to the inner city and the Cassaro, the oldest street in Palermo, is formed like most triumphal arches. The facade leading outward to the Calatifimi Course and the Independence Square displays four large telamones in the forms of Moors captured by Charles V. Charles, who of course never got to see them.
Porta Nuova (New Gate) on Map
Walking Tours in Palermo, Italy