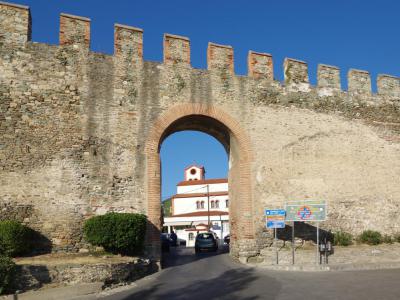 Portara (Main Gate) and Byzantine Walls of Thessaloniki, Thessaloniki
The Walls of Thessaloniki are the fortification structure that once surrounded the city, starting from the Middle Ages through 1874, when large segments of the walls, including the entire seaward section, were demolished as part of the Ottoman restructuring of Thessaloniki's urban fabric.

The preserved part of the Walls date back to the early Byzantine period, ca. 390, and incorporate parts of an earlier, late 3rd-century construction. These consist of the typical late Roman ashlar masonry mixed with bands of brick.

Today the Walls stand about 4 km long, which is half of their original perimeter (8 km), and are up to 10-12 meters high and 4.5 meters wide. On the northeastern side they ascend to the hills and adjoin the Acropolis with the Heptapyrgion (Eptapyrgio) Fortress.

In 1355 Byzantine Empress Anna Palaiologina modified part of the Walls by creating two gates. Commonly referred to as Doors to the Walls, these two gates located in the Northern section of the Walls, and a third one to the West, leading out of the city and known as "Portara", i.e. Great Gate, in case of an attack or siege of the city provided safe passage for the citizens into the Acropolis and mainly to the Heptapyrgion, the ultimate refuge to escape the fury of the enemy.

The Portara (main gate) has been preserved in a very good condition. Here you can see different layers of brickwork where the walls have been repaired over the centuries.

There are about 50 towers incorporated in the Walls altogether, including those from the Byzantine era, such as the Klaudianos, the Relief, the Ormisda and the Andronikos Lapardas towers; and those from the Ottoman period – the White Tower and the Chain/Triangle Tower.

Today the Walls of Thessaloniki are officially recognized by UNESCO as a World Heritage Site.
Sight description based on Wikipedia.
Portara (Main Gate) and Byzantine Walls of Thessaloniki on Map
Walking Tours in Thessaloniki, Greece