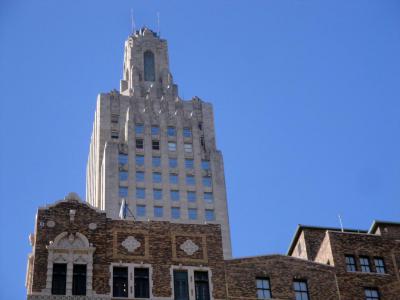 Power & Light Building, Kansas City
This landmark Art Deco skyscraper was built in 1931. At the time, the 36-story building was the tallest west of the Mississippi. The building is so ubiquitous to the city that its profile is used on advertising for the Power & Light District and even the city as a whole. The most notable feature of the building is the huge Art Deco lantern that adorns the top. The lantern has prismatic glass panels that reflect an orange-red glow, while recessed setbacks in the building feature LED colored lights.

The Power & Light Company left the building in 1991. The city went through several proposals to redevelop the building into a convention center and hotel, but none of the proposals hit home. Since 2014, the building has been an apartment tower with 210 units–the result of a significant refurbishment project that has the building shining. The lobby is still adorned with gorgeous Art Deco details in the light fixtures, air vents, and doors; it's now used as an event space for groups of up to 500.
Power & Light Building on Map
Walking Tours in Kansas City, Missouri