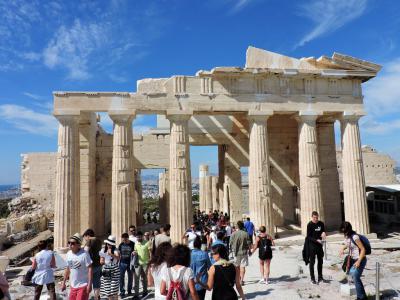 Propylaea, Athens
The Propylaea serves as the grand entrance to the Acropolis in Athens, welcoming thousands of tourists who pass through it on their way to the other ancient monuments surrounding the Acropolis. With the original stairs having been lost to time, visitors today enter and exit via specially constructed slopes. As you walk through this gateway, take a moment to contemplate the incredible architectural achievement of the ancient Greeks, who built such a monumental structure on such a challenging site.

Designed by the architect Mnesicles and constructed between 437-432 BC, the Propylaea is a remarkable structure in its own right. It consists of a central building flanked by two wings on the outer side, one to the north and one to the south. The colonnades on the east and west sides featured Doric columns, while Ionic columns divided the gateway into three sections. Notably, this is the first known building from the classical period with both Doric and Ionic colonnades visible at the same time, supporting the roof. The coffered ceiling of the Propylaea's central building was originally painted to depict a heavenly scene, adding to its grandeur.

As you pass through the gateway, you can imagine the anticipation of ancient pilgrims, as each of the five heavy wooden doors along the walkway would have been opened in succession. Among the rooms within the Propylaea, the only one that was completed is the second room on the northern side. This space served as a refuge for visitors to the Acropolis and, according to the 2nd-century AD geographer Pausanias, also functioned as a picture gallery (Pinakotheke). Its walls were adorned with panels and frescoes.

The Propylaea endured through the Greek, Roman, and Byzantine periods, but it suffered significant damage in 1656 due to an explosion of a powder magazine. Since 1984, efforts have been made to partially restore this magnificent gateway.

Tip:
Just beyond the Propylaea, to your right, lie the remains of the Sanctuary of Artemis Brauronia, dating back to the 4th century BC.
Walking Tours in Athens, Greece
Useful Travel Guides for Planning Your Trip
---