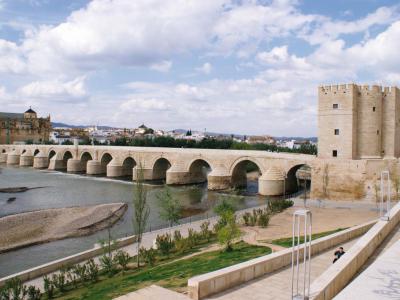 Puente Romano de Cordoba (Roman Bridge of Cordoba), Cordoba
(must see)
Spanning the Guadalquivir River is the majestically Roman Bridge of Cordoba (Puente Romano de Cordoba). At the north end is the Mosque-Cathedral. At the south end, across the river, is the fortified Calahorra Tower. The 12th-century Arab cartographer Muhammad al-Idrisi claimed the bridge "surpasses all other bridges in beauty and solidity."

The Roman Bridge was constructed in the 1st century BC. The ancient Augusta Street (Via Augusta), connecting Rome to Cadiz, passed over the bridge. During the Umayyad dynasty in Spain, governor Al-Samh Ibn Malik al-Khawlani ordered the reconstruction of the old Roman structure. The rebuild had 16 arcades. It was 811 feet long with a width of 30 feet.

In the Middle Ages, the Calahorra Tower and the Gate of the Bridge were built at the Roman construction's southern and northern ends, respectively. The Gate of the Bridge is a reconstruction of the 16th-century Bridge Gate. In the 17th century, a statue of St Raphael by sculptor Bernabe Gomez del Rio was erected in the middle of the bridge. During its history, the Roman Bridge was restored and renovated several times, and only the 14th and 15th arches from the north side are original.

Major restoration work, carried out in 2006, was supervised by city architect Juan Cuenca Montilla. There has been some controversy over the renovations affecting the bridge's appearance. For example, the pink granite replaced the old paving, and the starlings, the massive breakwaters of the archway piers, were cleaned.

Sleeker-looking bollard lights replaced the 19th-century streetlights. The niches of St Acisclus and St Victoria were restored as well. In addition, the north end of the bridge was raised, making it flush with the Riverside Walk (Paseo de la Ribera).

The Roman Bridge, the Bridge Gate, and the Calahorra Tower have been Monuments of Cultural Interest since 1931 and a part of the Cordoba World Heritage Site in 1984. The Roman Bridge was featured in the popular HBO TV series Game of Thrones as the Long Bridge of Volantis.
Puente Romano de Cordoba (Roman Bridge of Cordoba) on Map
Walking Tours in Cordoba, Spain