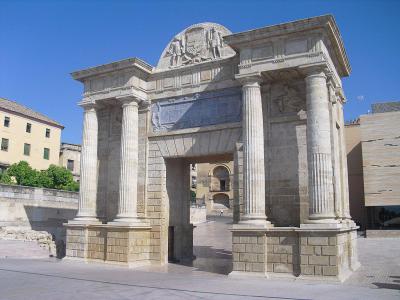 Puerta del Puente (Gate of the Bridge), Cordoba
The Puerta del Puente (Gate of the Bridge) existed in the time of Julius Caesar. It was connected to the Roman Bridge as part of Augusta street (the longest and busiest road built by the Romans in the ancient Iberian Peninsula), and it served as the main entrance to the city. It is said there was a statue at the top of the gate. It was a popular deity, probably Venus, the Goddess of Love. During the Moorish period, Venus was taken off.

During Moorish rule, the gate was known as the Gate of the Bridge (Bab al-Qantara), Gate of the River (Bab al-Wadi), or Gate of Algeciras (Bab al-Yazir). With the coming of the Reconquest (military campaigns to 'reconquer' the Iberian territory occupied by Muslims), it was the Algeciras Gate (Puerta de Algeciras). In 1572, in anticipation of a visit of King Felipe II, mayor Alonso Gonzales de Ortega ordered the bridge to be rebuilt.

The rebuilding started with architect Francisco de Montalban and was finished in 1576 by Hernán Ruiz the Younger. In 1912, during the reign of Alfonso XIII, the gate began to assume its present appearance. Neighboring buildings on both sides were demolished. The Gate of the Bridge was restructured as a free-standing memorial gate in 1928.

At present, the gate is open for visitors. A public exhibition room shows illustrations of the history of the monument. There is a balcony on top, commanding panoramic views of the plaza, the bridge areas, and beyond. More restorative work commenced in 2005.
Puerta del Puente (Gate of the Bridge) on Map
Walking Tours in Cordoba, Spain