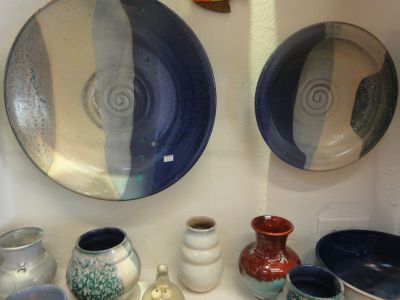 Puerto Rican Art and Crafts, San Juan
Art is everywhere in San Juan and art and crafts shops can be found throughout the narrow, winding cobblestone streets of the old city. Many of the artists have been schooled at one of the local art institutes while some are simply self-taught.

Ceramics are one specialty that you will see in many different shops and galleries but at Puerto Rico Art & Crafts artisans have a unique opportunity to show off their creations. The store allows artists to have their own shelf or wall to display their work. Located in the heart of Old San Juan, Puerto Rican Arts and Crafts will surprise you with its outstanding collection of oil and acrylic paintings, great watercolors, beautiful sculptures, fine ceramics, traditional hand-carved figures, handmade jewelry and other excellent items.

The ceramics really stand out here with larger items like colorful plates and bowls to smaller objects such as cups and vases. The shop is located in a restored Spanish colonial building in the heart of Old San Juan and artists from around the island are featured here at different times during the year. Price: $6-$900.

The Butterfly People Gallery located on the premises is dedicated to magnificent butterfly artwork and a wonderful place to shop. Visitors can admire the art collection and buy exotic butterflies encased in acrylic, which is an excellent and inventive gift for any occasion.

When you first walk into The Butterfly People shop in San Juan's old city, you feel as if you just walked into an exotic butterfly garden. You are surrounded by Lucite encasements of butterflies of a variety of different species and in every color you can imagine. The shop has a beautiful garden in the back and the light makes everything in the store sparkle. The butterflies glow and shine through their plexiglass boxes which are small enough to fit in your bag or large enough to cover a wall. The butterflies look as though they might fly right out at you.

Of course, they won't, they're not alive, but they are preserved carefully in artful settings by Resat Revan and his wife Cirene, who buy butterflies from native sellers in tropical locations around the world. On top of their shop is their studio where Resat designs and produces these beautiful and vivid displays. A piece of butterfly art features anywhere from two to one hundred butterflies. Price: $30-$3,000.

What to buy here: Puerto Rican Ceramics, Butterfly Art.
Image Courtesy of Stacey Hocheiser.
Puerto Rican Art and Crafts on Map
Walking Tours in San Juan, Puerto Rico
Useful Travel Guides for Planning Your Trip
--- 13 Distinctively Puerto Rican Goods to Bring Home from San Juan
The uniqueness of Puerto Rico is partially associated with its political status - part of the United States yet with a Latin twist. Other than their widely-acknowledged musical talents, e.g. Carlos Santana and Ricky Martin, Puerto Rico is just as rich in many other good things. When you're in...