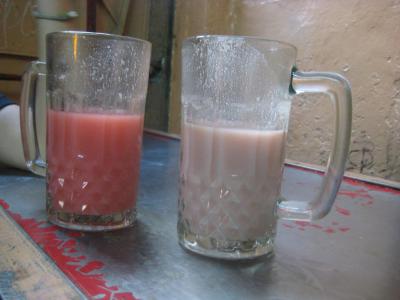 Pulqueria Las Duelistas, Mexico City
Sitting just a few blocks south of the Palacio de Bellas Artes, Pulqueria Las Duelistas is a great place to sample pulque. This freshly fermented sap of giant agave, with a slightly viscous texture and many well-documented nutritional qualities, has about the same potency as beer. The regular crowd of young locals and youngsters at heart creates a bit of a chaotic vibe here, even in the earlier hours, and, as the day progresses, it gets younger with those packing this small bar to the full so as to enjoy a dizzying variety of pulque.

Graffiti-like painted walls and ceilings, metal stools without cushions, ceiling fans and no A/C... this is what makes a pulqueria and is definitely not for the shy! You have to know what you're getting into before coming here. To an outsider, it may take a bit of courage to enter the saloon style doors, but if you do get in, you'll be happy you did, albeit not without some feeling of an oddity sitting next to a pile of empty plastic bins. With luck you may find yourself a spot at a communal table to squish in between the locals who will be surprised to see extranjeros ordering some 'pulques de canela.'

Why You Should Visit:
To trace the roots of Mexico City drinking culture. Back in the 1880s, they say, there was a pulqueria on every block in the city. Now there are just a handful of places remaining that exclusively serve fresh pulque. Perfect for a quick break in a day of touring, when you're not really hungry.

Tip:
While there's a variety of fruit-flavored versions, the original unadulterated Aztec concoction, called Pulque Blanco, which is tart and funky, really does stand out from the crowd. It's very mild but with its own tang.
Otherwise, order one of the 40+ revolving "curados," naturally-flavored pulques of which there are always several available. Try the guava, peanut, celery or cinnamon pulque in particular (dusted with fresh cinnamon on top). Very delicious!
There's a lot of pride around pulque, and a certain communal aspect to it, so don't be surprised if someone pours you a taste from his or her plastic pitcher.
Pulqueria Las Duelistas on Map
Walking Tours in Mexico City, Mexico
Useful Travel Guides for Planning Your Trip
--- Souvenir Shopping Guide: 17 Must-Buy Local Products from Mexico City
Both historic and modern day Mexico's are worth each other in terms of cultural and artistic heritage. The country's capital Mexico City is a showroom of what the label "Made in Mexico" stands for in its entirety. Whether it's authentic food, drink or piece of craftsmanship... 10 Must-Try Mexican Foods in Mexico City
While Mexico is a treasure trove in terms of cultural and artistic heritage (ancient history, architecture, etc.), the vast majority of visitors to the country are lured mainly by, let's face it, bodily pleasures. The latter are manifested in the form of sandy beaches, sun and, most...