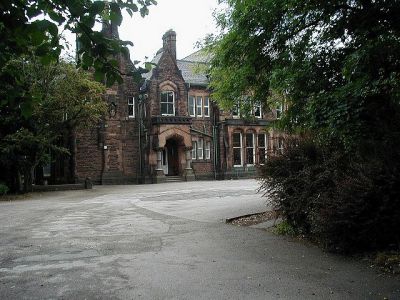 Quarry Bank Grammar School, Liverpool
The young troublemaker John Lennon studied at the Quarry Bank Grammar School between 1952 and 1957. John's closest friend, Pete Shotton, also frequented Quarry Bank Grammar. Together, they broke all the rules: smoking, fighting, swearing, and so on.

In 1956, John form a band calling it The Quarrymen. Interestingly, the name "Quarrymen" was not taken from the school name, but from the Quarry Bank School song titled, "The Song Of The Quarry". The initial band consisted of John Lennon, Pete Shotton, Ron Davis, Len Garry, Colin Hatton, and Eric Griffiths. Nobody, except John, took the band seriously. Paul McCartney joined The Quarrymen in July 1957, followed later by George Harrison and Stuart Sutcliffe.

In the same year when Quarrymen was formed, Ernest Pobjoy became the headmaster of the school. He allowed the band to play in the building's hall. He was the person who encouraged John in his interest in music and recommended him to the Liverpool College of Art.
Quarry Bank Grammar School on Map
Walking Tours in Liverpool, England