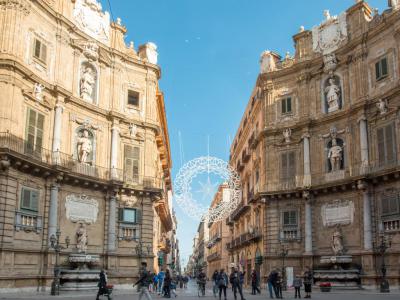 Quattro Canti (Four Corners Square), Palermo
(must see)
Although it is commonly called Four Corners, the actual name of the square is Piazza Vigliena. It is named in honor of the Viceroy, Juan Fernandez Pacheco. The square is situated at the intersection of Maqueda Street and Vittorio Emanuele Street. Called a square, in olden times it was called "Octagon of the Sun." It is actually eight-sided.

The octagon is formed by four street sides and four building sides. The buildings are Baroque, of the same height and almost identical. The facades hold fountains (yes, fountains), statues of the four seasons, the four Spanish kings of Sicily and the four saintly patronesses of Palermo, Christina, Ninfa, Olivia, and Agata.

The facades are curved. They are four stories high. Fountains reach to the second floor. There are niches on the third and fourth floors holding statues. The rooftops are graced with coats-of-arms.

The square was laid out by order of the viceroys from 1608 to 1620. The architects were Giulio Lasso and Mariano Smiriglio.
Quattro Canti (Four Corners Square) on Map
Walking Tours in Palermo, Italy