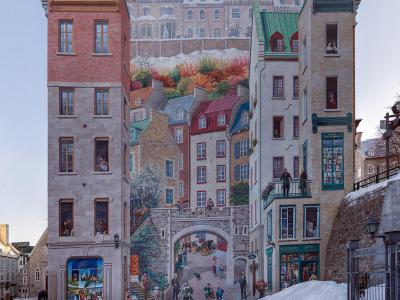 Quebec City Mural (La Fresque des Quebecois), Quebec City
Reaching nearly three stories tall and at a size of 4,520 sq ft (420 sq m), La Fresque des Québécois is the city's largest and most historical trompe l'oeil. Unveiled in 1999, it took twelve artists from France and Canada to complete the immense mural that cleverly shows the city's four-century history and its important figures. The site was perfectly chosen, as there is no adjoining building to hide the colorful work, and one could easily spend an hour just capturing all the details.

Sixteen prominent Québécois are featured in the painting, including historical figures like Jacques Cartier, Samuel de Champlain, and Lord Dufferin, as well as cultural icons like singer/songwriter Félix Leclerc and leading politician Louis-Joseph Papineau. Also shown in the mural are typical Québécois buildings through whose windows the important figures peek. One of the gates figures prominently, as do the famous L'Escalier Casse-Cou (Breakneck Stairs) and the province's four seasons.

A popular tourist sight, it kicked off a trompe l'oeil craze around the city, and many buildings are now covered in historically clever murals.
Quebec City Mural (La Fresque des Quebecois) on Map
Walking Tours in Quebec City, Quebec