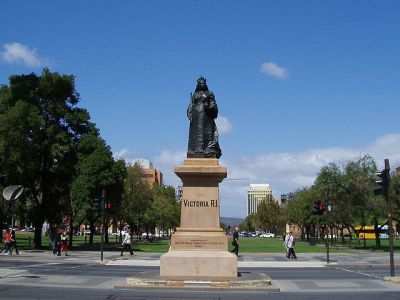 Queen Victoria Monument, Adelaide
Located in the centre of Victoria Square in Adelaide is the statue honouring Queen Victoria. Victoria's dominion included the Australian colonies, which, after their federation in 1885, made her the monarch of this continent too.

The statue reflects the design originally executed by the English sculptor Charles Bell Birch for the Maharajah of 'Oodeypore' [Udaipur] in 1889. Birch later amended the 1889 model and recast the statue of the Queen for the entrance hall of the Imperial Institute in London. It was that amended design that Sir Edwin Thomas Smith, the future major of Adelaide, noticed whilst on a trip to the UK in 1893 and proposed to the Adelaide City Council as a replica monument for the city.

The statue was cast in England by Moore & Co. of Thames Ditton foundry. Smith specified that the bronze for it be made of Australian tin and copper from Wallaroo Mine or Moonta Mine; eventually the copper from Wallaroo was used. The red granite base and pedestal for the statue were designed by Mr Smeaton and quarried from the land near Palmer, South Australia. Carving of both did the monumental stonemasons Fraser & Draysey of Waymouth Street, Adelaide.

Inscribed simply with "Victoria R.I.", the statue was originally unveiled by Lady Smith on 11 August 1894. A few years later, it was symbolically draped in black as a sign of mourning following the death of Queen Victoria in 1901. For decades afterwards, a wreath laying ceremony was held at the foot of the monument each 24 May (or 23rd when the 24th fell on Saturday) to mark the anniversary of Victoria's birth in 1819. In May 2013 the statue was temporarily removed, cleaned and polished, as part of the upgrade of Victoria Square, and returned in December 2013 in a modified location.
Queen Victoria Monument on Map
Walking Tours in Adelaide, Australia