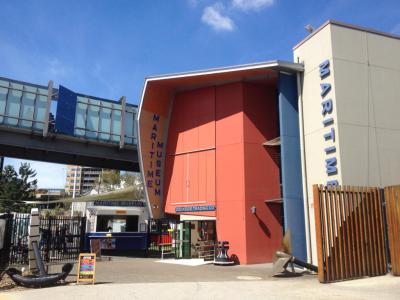 Queensland Maritime Museum, Brisbane
The Queensland Maritime Museum is located at the Kangaroo Point end of the Southbank Parklands and was opened in 1971. Located on the banks of the Brisbane River it is home to a vast collection of Queensland and Australian maritime historical documents and artifacts. Since Brisbane has always been a bustling port city, there is a lot of valuable historical information to be gleaned on a visit here. The museum is divided into different exhibitions that focus on: Navigation, Lighthouses, Ship Models, Marine Engines, Vessels, and the Dry Dock. The library onsite has extensive archived information relating to pearling, immigration, shipwrecks, commercial ships and yachts.

The Dry Dock at the museum is one of the most important signs of Queensland's colonial past. It was proposed in 1870 and building began in 1875 by 1881 it was functioning. It was also of strategic importance during World War II when it was used by the major allied defense to service around 50 submarines amongst other navy vessels. Visitors also get to board the Diamantina, which was a Queensland built WWII vessel and you can see how navy officers lived and worked on deck. The Queensland Maritime Museum is open every day from 9:30am to 4:30pm.
Queensland Maritime Museum on Map
Walking Tours in Brisbane, Australia