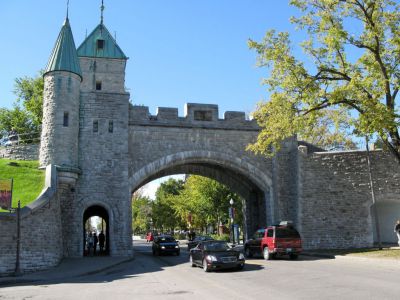 Ramparts of Quebec City, Quebec City
Thanks go to Lord Dufferin for not knocking down the 17th-century fortification walls around Quebec City – the only ones remaining in North America. Built by the French and augmented by the British several centuries ago, the Canadian Government spends millions to refurbish them and keep them pristine.

There are several places where visitors can view the walls for free and investigate their construction. One of the best places to view the high stone wall, the earthworks, and two city gates (Porte St. Louis and Porte Kent, dating back to 1694 and 1879, respectively) is in the area of the Parliament Building. Visitors can walk on the green earthworks pushed up against the wall or climb up to the bridge on the city gates to see the thickness and height of the encircling walls. Particularly at Porte Kent, there are several black cannons on view. The defensive wall continues to the Citadel where there is an admission charge to visit the fort.

Why You Should Visit:
If you are used to living in the modern city with all the skyscrapers, this makes for a nice change. The views from the top are flabbergasting.

Tip:
Wear good walking shoes, bring water and some goods along, and try to avoid midday in summer as it can be hot and sticky.
Do also try to get a guided tour of the site, and be sure to climb up and walk along the top of the wall for great views.
Ramparts of Quebec City on Map
Walking Tours in Quebec City, Quebec