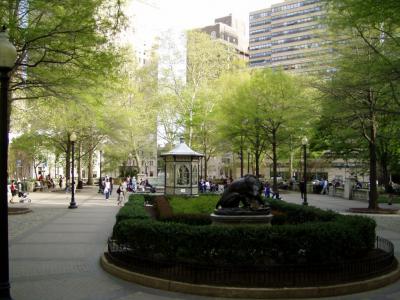 Rittenhouse Square, Philadelphia
This beautiful, lush park, nestled among the throng of giant downtown buildings in the heart of the most fashionable neighborhood in Philadelphia, was named after Philly's own Revolutionary war patriot, David Rittenhouse, in 1825. The present layout of the square, with walkways running diagonally and meeting in the center, emerged in 1913; many of the bronze statues here also date back to that period.

Apart from its historical and architectural heritage, however, Rittenhouse Square is mostly popular these days for its association with Rocky II film. In the movie, Rocky and Adrian stroll along the southeast corner of the square after they learn from the doctor that they're going to have a baby.

The couple head south, towards the intersection of 18th Street and Locust Street. Those keen to discover the exact route they took, should look for the elegant Barclay Condominium (remember the line, "I never use 'em"). This stone-fronted building is seen just behind the Balboas when they stop to face each other. Back in the day, when the scene was shot, the Barclay had a green awning over its front entry way, which is now removed and replaced with a much grander, upscale frontage.

Curiously enough, young Sly, his brother Frank, and their parents used to live in Rittenhouse Square for real, during the late 1950s, at the Chateau Crillon Apartments (222 S. 19th St., Philadelphia, PA). Also, according to a 1979 interview, Stallone actually stayed at the Barclay Hotel in between filming of Rocky II and Rocky III.
Rittenhouse Square on Map
Walking Tours in Philadelphia, Pennsylvania
Useful Travel Guides for Planning Your Trip
---