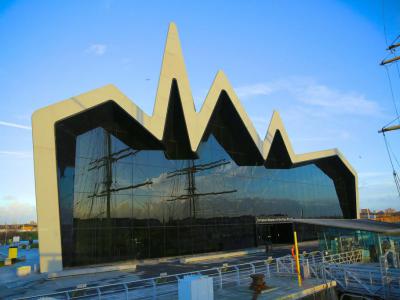 Riverside Museum (The Glasgow Museum of Transport), Glasgow
(must see)
The Glasgow Museum of Transport was established in 1964. In 1987 the museum was relocated to the city's Kelvin Hall, and then moved to its current location in the Riverside Museum building, designed by Zaha Hadid, at Glasgow Harbour in 2011.

Although containing approximately the same floor space as the previous museum facility, this distinctive building creates a more environmentally stable home for Glasgow's significant (over 3,000 exhibits) Transport Technology collections featuring motorcycles and bikes, vintage cars, trains, ships, toys and other means of transportation to pore over.

The building also houses a workshop and office space for the Clyde Maritime Trust. It even has a cobbled street depicting life in Glasgow from the turn of the 20th century, where you can wander in and out of recreations of old shops, whilst passing by horse-drawn carriages. Another popular visitor attraction, berthed right outside the museum, is the Glenlee (aka The Tall Ship), launched in 1896 and circumnavigated the globe four times. This is one of the few remaining Clyde-built ships still afloat.

The building has a zig-zagging, zinc-clad roof and a 36 metre-high glazed frontage overlooking the River Clyde. The design, combining geometric complexity with structural ingenuity and material authenticity, continues Glasgow's rich engineering traditions and forms part of the city's future as a centre of innovation.

Why You Should Visit:
A prominent and truly unique location – allows visitors an opportunity to get a sense of history by literally stepping inside (aboard) some of its pieces.
Riverside Museum (The Glasgow Museum of Transport) on Map
Walking Tours in Glasgow, Scotland