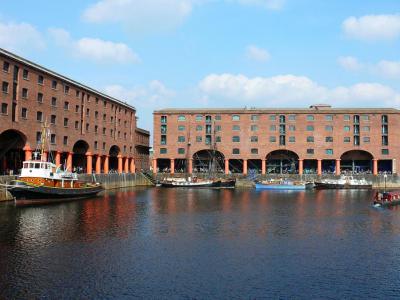 Royal Albert Dock & the Waterfront, Liverpool
(must see)
Albert Dock, a historic complex of docks and warehouses on the banks of the Mersey river, is Liverpool's biggest tourist draw, attracting over 4 million visitors each year. It was built in the 1840s and designed by local architects Jesse Hartley and Philip Hardwick. The new dock was ground-breaking in two ways – one of the first dock complexes to allow direct unloading of cargo into warehouses, it was also the first UK development not to use wood in its construction. The complex was crucial to Liverpool's rapid development as a global trade port, with ivory, sugar, silk and tobacco stored in its five vast warehouses.

The dock ceased to function for trade purposes after the outbreak of WWII, instead becoming a base for Royal Navy ships. In the post-war era, Albert Dock fell into disuse, before a redevelopment plan was drawn up in the 1980s. The dock itself was regenerated and hosted the Tall Ships Race in 1983, bringing a million tourists into the city. Gradually, the historic warehouses around the water were renovated and used for a wide range of new attractions. They now host a Maritime Museum, the world's only dedicated Beatles museum, and Liverpool's Tate Gallery.

Albert Dock houses the largest collection of Grade I listed buildings in the UK and is the jewel of Liverpool's historic waterfront area. Immediately west of the dock, you will find the Pier Head, a peninsula jutting into the river which houses the Three Graces – three of Liverpool's most famous buildings, including the Royal Liver building. The ornamental birds on the Liver building have become a symbol for the city's university, council, and eponymous football team, Liverpool FC.

Why You Should Visit:
Industrial heritage, museums (some are free entry), art galleries, countless shops, bars & restaurants – a focal point of Liverpool.
The only problem with this place is, it is too big to discover in a single day.
Royal Albert Dock & the Waterfront on Map
Walking Tours in Liverpool, England