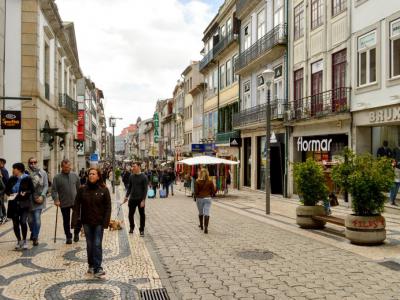 Rua Santa Catarina (St. Catherine Street), Porto
(must see)
St Catherine Street is Porto's main shopping thoroughfare. It is totally pedestrianized and it extends from Marques de Pombal Park in the north to Batalha Park in the south. It runs between buildings with Art Deco facades. It is named for the Chapel of Souls and St Catherine of Alexandria.

Shop on Marques de Pombal for clothing, haberdashery goods, and shoes. The Via Catarina shopping center, many street vendors, and cafes make for a busy day for visitors.

Landmarks encountered are the Latina New Art Bookstore at Batalha Park and Palladium Gallery at the intersection of Passos Manuel Street. The Cafe Majestic, since 1921 a watering hole for Porto's intelligencia, is next to the Imperiel Tea Room, also a historic landmark.

The prestigious Porto Grand Hotel is next, since 1880 a haven for the famous. It was a place to die in 1889 for Teresa Cristina, Empress of Brazil. Prime Minister Afonso Costa was held prisoner here in 1917 during a coup d'etat.

At last, there is the Chapel of Santa Catarina also known as Chapel of Souls on the corner of Fernandes Tomas Street.
Rua Santa Catarina (St. Catherine Street) on Map
Walking Tours in Porto, Portugal