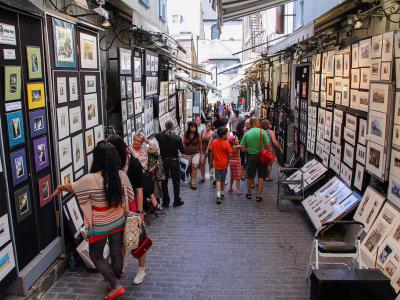 Rue du Trésor, Quebec City
This year-round open-air gallery is one of Québec City's most famous, displaying plenty of artists and artwork – from picturesque watercolors of local scenes to abstract etchings of something completely indefinable. The artists will talk to you all day long, but there is no pressure to buy – but since prices are good, you can actually take a little something back home. The gallery was created in the 1960s by a group of art students to exhibit their work, and some of those original students are still here.

Rue du Trésor is one of the oldest streets in the city and has been around for three centuries. At the time of the French regime it was along this street that the colonists would pass in order to reach the Royal Treasury, where they paid their taxes – just another example of how QC's street names have remained unchanged for centuries.

Why You Should Visit:
This quaint little street packed with artists is one of the more atmospheric in Quebec City. The art can be hit-or-miss but the street itself is worth seeking out.

Tip:
Do not take photos of artwork as the artists are very protective of their work being copied, and rightfully so. Note, also, that not all vendors take credit cards.
Walking Tours in Quebec City, Quebec