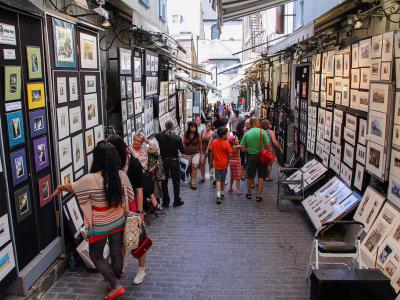 Rue du Trésor, Quebec City
The cobblestone street linking the Frontenac Castle (Château Frontenac) and the Our Lady of Quebec (Notre-Dame de Québec) Cathedral-Basilica is one of the oldest streets in Quebec City, dating back three centuries. During the French colonial regime, colonists used to come to this street to pay their dues at the Royal Treasury that was located here, hence the name – Treasury street (rue du Trésor).

More recently, this quaint little street, with a distinctive European cachet, has become especially atmospheric thanks to the open-air art gallery established here in the 1960s. It started off with a group of art students deciding to exhibit their paintings. Other artists, interested in displaying their works to tourists and amateur art lovers, soon followed suit. In time, the street became so popular as a venue for selling art that a designated association (the Association des Artistes de la Rue du Trésor) was founded to promote and supervise business activities on the site.

The gallery operates all year round. To handle the flow of visitors, the artists are often present here until 9 pm every day, from mid-May to mid-October, but are free to set their own hours. During the rest of the year, some of them are also present on holidays, as well as weekends, when large crowds are expected.

If you're looking to buy a souvenir, this could be just the right place. Here, you can find pretty much every form of graphic media – from picturesque watercolours of local scenes to oil paintings, engravings, reproductions, and abstract etchings of something completely indefinable. The artists may talk to you all day long, but there is no pressure to buy. And since the prices are good, you can actually find a little something to take home.

Crossing Treasury street at its upper end is yet another artistic hub in its own right – Saint Anne street (rue Sainte-Anne). Here, numerous caricaturists and portraitists practice their craft in a picturesque setting. The art can be hit-or-miss but the street itself is well worth checking out.

Tip:
Do not take photos of the displayed items, as the artists are very protective of their work being copied, and rightfully so. Note: not all vendors take credit cards.
Walking Tours in Quebec City, Quebec