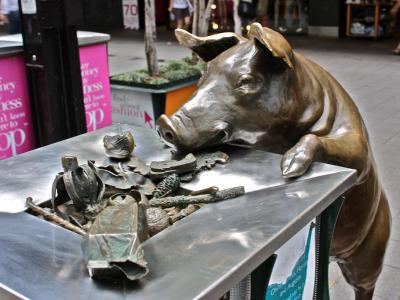 Rundle Mall Four Pigs Statues, Adelaide
On 3 July 1999, Rundle Mall welcomed new residents — a group of four life-size bronze pigs. The charming squeakers proved so popular with the public that a competition was held to name them as follows: Oliver (the one rearing up to dig through the rubbish bin for food scraps), Horatio (sitting), Truffles (sniffing the ground), and Augusta (observing the other three and greeting passers-by). A pertinent brass plaque with the name of each piggy and the person who named it is fixed accordingly.

Equally loved by children and adults, these cute hoggies, other than being a sheer fun to look at, don't mind being sat on or hugged for pictures. Seemingly indifferent to their celebrity status, they enjoy a great day out on the town, fooling and rooting around.

Created by South African-born, Sydney-based sculptor Marguerite Derricourt, the four grunters, she says, were partly inspired by Pietro Tacca's 1612 fountain in Florence, Italy, that features the Il Porcellino ("piglet") bronze sculpture of a boar.

As part of the 2013-2014 Rundle Mall upgrade, the pigs had a "night out" when they literally flew – hoisted by cranes onto trucks for a restoration, prior to being returned to their place on the mall. Some people reckon, the pigs symbolize shoppers sniffing out a bargain.
Rundle Mall Four Pigs Statues on Map
Walking Tours in Adelaide, Australia