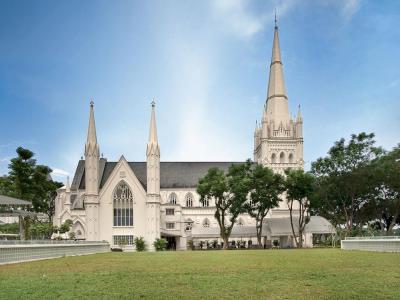 Saint Andrew's Cathedral, Singapore
The largest cathedral in Singapore, Saint Andrew's is an impressive Neo-Gothic piece of architecture, renowned for its Madras chunam finish. Originally, this land between Hill Street and North Bridge Road was allocated for the siting of an Anglican church by Sir Stamford Raffles in his Town Plan of 1822. The construction, however, didn't start until funds were raised by the community in 1835. The church was named Saint Andrew after the patron saint of Scotland in honor of the Scottish community who had donated to the building fund.

The initial church was designed in Neo-Classical style by George Drumgoole Coleman. After complaints that it resembled a "Town Hall, a College or an Assembly Room", a spire was added in 1842. That spire, however, was built without a lightning conductor and the church suffered two lightning strikes in 1845 and 1849. It was then declared unsafe and even haunted by unhappy spirits, and eventually closed in 1852. Three years later the church was demolished.

The construction of a second church was initiated by the then Governor of the Straits Settlements William Butterworth, and its designing was entrusted to Colonel Ronald MacPherson, the Executive Engineer and Superintendent of convicts whose labor was commonly used in early Singapore. MacPherson built a Gothic Revival cathedral, reportedly out of inspiration by Netley Abbey, a ruined 13th century church in Hampshire, England. The piers of Saint Andrew's nave closely resemble the surviving piers at Netley.

Three stained glass windows located at the apse are dedicated to three figures in Singapore's early colonial history, namely: Sir Stamford Raffles, at the center; John Crawfurd, the first major Resident of Singapore, on the left; and Major General William Butterworth on the right. Three objects in the cathedral symbolize its affiliation with the Anglican Communion in England and its allegiance to the worldwide See of Canterbury. These include the Canterbury Stone with a bronze replica of the Canterbury Cross sent from Canterbury Cathedral in 1936, the Coventry Cross made from three silver-plated iron nails from the ruins of the 14th century Coventry Cathedral destroyed by bombing during World War Two, and the Coronation Carpet used in the Coronation of Queen Elizabeth II in Westminster Abbey.

During the Japanese invasion, Saint Andrew's served as an emergency hospital. Since 1973, it has been a monument of national importance in Singapore.
Sight description based on Wikipedia.
Saint Andrew's Cathedral on Map
Walking Tours in Singapore, Singapore
Useful Travel Guides for Planning Your Trip
--- 12 Singapore Foods You Should Not Miss
Food is a national passion for Singaporeans. Locals think and talk about food incessantly, often thinking nothing of travelling for miles across the island and queuing for hours just to taste one of their favourite dishes. Singaporeans abroad will bemoan being parted from their favourite foods,... Traveler's Guide to Singapore: 15 Souvenirs to Bring Home
Known as one of the Four Asian Tigers (or Dragons), Singapore is a thriving metropolis and one of the most fascinating tourist destinations in Asia. Home to multi-ethnic community, the city carefully preserves and proudly exhibits its colorful identity, manifested - among other forms - in the...