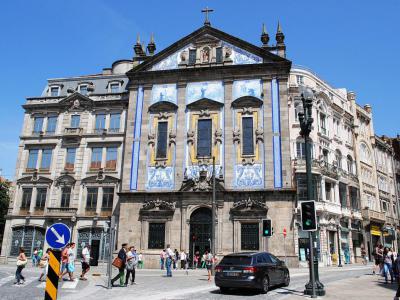 Saint Anthony Church of the Gatherers, Porto
Located in Porto, Portugal, the Igreja de Santo Antonio Congregados, also known as the Saint Anthony Church of the Gatherers, is dedicated to Saint Anthony of Padua. This Portuguese born saint, St. Anthony was born in the 12th century and became a Franciscan priest. The Franciscans were the largest member of the Order of the Friars Minor and were founded by St. Francis Assisi. As a missionary, he eventually found his calling in Padua, Italy.

The building was constructed during the late part of the 17th century. The church replaced the original church which stood on this land for several hundred years. Designed by the very popular and world renowned architect of the time, Joaquim Jaime B. Ferreira-Alves, it is elegant and elaborate with Baroque features including the fabulous tile work which was created by the famed artisans, Jorge Colaço and João Baptista Ribeiro.

The tile work tells the story of St. Anthony and the Assumption of the Blessed Virgin Mary. Baroque style is characterized by sharp details and larger-than-life motion which, it its architectural constructions often appear as if they are seamlessly reaching for the sky. Many of the Roman Catholic Churches throughout Europe have some style elements of the Baroque period of art and architecture.
Saint Anthony Church of the Gatherers on Map
Walking Tours in Porto, Portugal