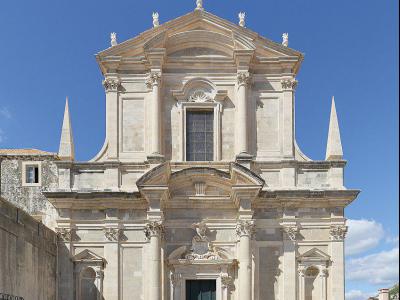 Saint Ignatius Church, Dubrovnik
(must see)
The Church of Saint Ignatius is located in Ruder Boskovic Field, reached by climbing steps designed after the famed Spanish Steps of Rome by architect Pietro Passalacqua. The church is built as a Jesuit church in the Roman Baroque style. It was completed in 1725 as a single-nave church and designed by Ignazio Pozzo.

Baroque frescoes inside showing the life of Saint Ignatius are the work of artist Gaetano Garcia. In 1885 a cave was created in the church dedicated to Our Lady of Lourdes. The cave was painted by the Jesuit master Antonio Moscheni. There are balconies and boxes on each side. Daylight through the stained-glass roof illuminates all within.

The facade is characterized by a High Baroque aesthetic. The central zone has free-standing columns and an ornate portal adorned with sculpted angels by architect Marino Groppelli. Next to the church is the Jesuit Collegium, built in 1662 and rebuilt in 1669-1725 after the devastating earthquake of 1667.

The Collegium was where the world-famous scholar Ruder Boskovic once taught. Today it is home to the Classical Gymnasium High School of Dubrovnik.
Saint Ignatius Church on Map
Walking Tours in Dubrovnik, Croatia