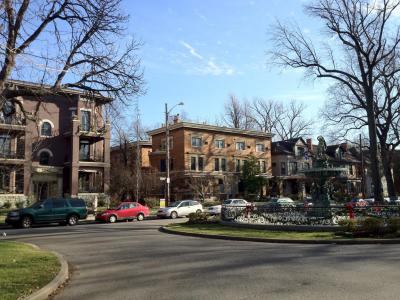 Saint James Court, Louisville
St. James Court forms the northern part of the St. James–Belgravia Historic District, within Old Louisville. This neighborhood was originally the site of the Southern Exposition held 1883-1887 on 23 acres of open land south of Central Park, surrounded by a wealthy residential neighborhood. The Exposition was essentially the World Fair of the time; it ran annually for five years and highlighted innovations of the day. Thomas Edison personally turned on the switch to light the Exposition with the largest display of electric lighting outside of New York, and the electric trolley car premiered here, riding delighted passengers through lighted tunnels on the adjoining DuPont estate, now Central Park.

Upon the conclusion of the Exposition, the land was developed as "Louisville's first example of thoughtful urban site-planning." The design of residential rows that face not a street but the green pedestrian mall became a model for other areas of the city. Thus St. James, Belgravia, and Fountain Courts were born, becoming some of the most recognized landmarks of Louisville. Together, they make one of the most beautiful and recognizable areas of the city. On St. James Court, stately Victorian homes make an oval frame around two lush shaded greens centered by a magnificent bronze fountain. At night, the area is lit by the soft glow of gas light: a setting to soothe the soul.

St. James Court and the entire surrounding area come to life in a remarkable way every year on the first weekend of October for the St. James Court Art Show. After more than four decades, it has become one of the largest open air art shows in the country, with about 700 artists, artisans and craftsmen exhibiting and selling paintings, drawings, sculptures, textiles, art glass, pottery, jewelry and much more. Several hundred thousand people make their way to Old Louisville each year to enjoy the event as well as the fall colors and elegant Victorian surroundings. The St. James Art Show is free.

In 1972, the district was placed on the National Register of Historic Places.
Sight description based on Wikipedia.
Walking Tours in Louisville, Kentucky