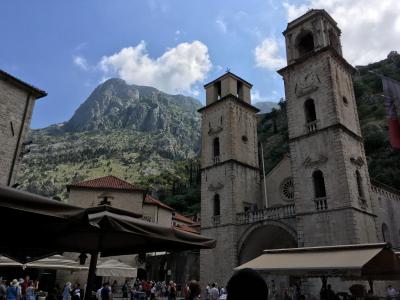 Saint Tryphon Cathedral and Square, Kotor
(must see)
Another one of the main squares of old town Kotor, Saint Tryphon's, is home to the Saint Tryphon Cathedral. Since it is one of the most impressive and imposing buildings in the city, it is also sometimes called the Kotor Cathedral.

The cathedral stands out in this historic city as it embodies the tumultuous past of the area. The site began in 809 when Venetian merchants brought artifacts back from Constantinople.

A local citizen built a church here for exhibiting the relics, and this church was mentioned in the writings of Byzantine Emperor Constantine VII Porphyrogenitus. Those writings were the only evidence of that first church until archaeological researchers found new evidence in 1987.

The cathedral was completed in 1166 and was built in the Romanesque and Byzantine styles. Like many of the structures in town, it was severely damaged by many earthquakes over the centuries. With each repair and restoration, the style of the building changed. Occasionally rebuilt would uncover elements of the original building.

It wasn't until the 1979 earthquake that the building was reconstructed to preserve the original 1166 structure.

Inside, a Ciborium from 1362 dominates the cathedral. You'll also see many paintings from medieval times. There is also a reliquary that has many relics from the 15th through the 18th centuries.

There are other important structures located on the square in front of the cathedral, as well. The Bishop Palace was the official residence of the bishops and is located adjacent to the cathedral. It was owned by the noble family Drago, whose palace is also on the square.
Saint Tryphon Cathedral and Square on Map
Walking Tours in Kotor, Montenegro