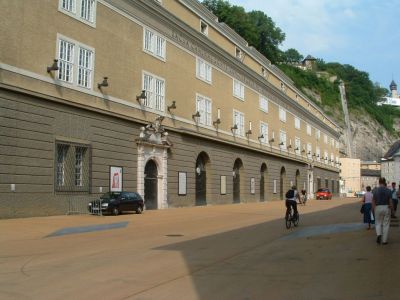 Salzburg Festival Halls Complex, Salzburg
The main stages for the world famous Salzburg Festival are comprised of two festival halls and the Felsenreitschule (literally "Rock Riding School"). Commissioned in the early 1600s, the former were once the riding stables of Salzburg's Prince Archbishops, while the latter, erected in the 1690s, was originally used as a summer riding school and for animal hunts. The complex took on many other uses before famous Austrian-American theater director, Max Reinhardt, took on the venue for the Salzburg Festival in 1926.

The Großes Festspielhaus (Large Festival House), in its current form, was designed specifically for the Salzburg Festival, having been inaugurated in July 1960 with a performance of Richard Strauss' "Der Rosenkavalier" conducted by Herbert von Karajan, who also worked with the main architect, Holzmeister, on aspects of the building's design. The building includes office space and tunneling into the Mönchsberg as well as a 2,179-seat performance space adaptable for both scenic and non-scenic events and acoustically scalable down for piano and song recitals. The stage is one of the widest in the world, at 100 metres (330 ft). Access from the street to the lobby is through five bronze doors, above which is inscribed a Latin motto by Thomas Michels: SACRA CAMENAE DOMUS / CONCITIS CARMINE PATET / QUO NOS ATTONITOS / NUMEN AD AURAS FERAT ("The Muse's holy house is open to those moved by song / divine power bears us up who are inspired").

***SOUND OF MUSIC TOUR***
Stretching for more than a city block, tucked against Mönchsberg's steep cliff, the massive Rock Riding School is an iconic location that hosted some of the most powerful scenes in the movie. It is here that the Von Trapp children rehearse for the festival and where, later on, Captain Georg von Trapp performs "Edelweiss" with the help of the audience, at first, and then of his family who joined him on stage to sing "So Long, Farewell", prior to fleeing Salzburg to escape the Nazis.

In real life, though, the Von Trapps' performance at the Festspiele happened somewhat differently. The family did perform at the Festival, in 1935, and then in 1936, when after officially forming their choir, they won the first place there. Only that was almost two years before the Anschluss (Nazi annexation) of Austria. After their refusal to sing for Hitler on his birthday in April of 1938, the family fled to Italy a couple of months later, ahead that year's Festival depicted in the movie.

Why You Should Visit:
A backstage tour of the Festival Halls is well worth doing, especially to see the Rock Riding School, converted to a theatre now with a retractable roof. Conducted in both German and English, tours run for about one hour, which is time worth spending to understand the architecture, artwork, as well as theatrical and technical feats.
Salzburg Festival Halls Complex on Map
Walking Tours in Salzburg, Austria