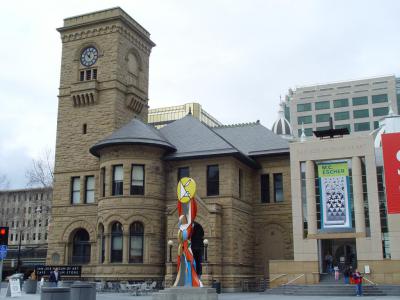 San Jose Museum of Art, San Jose
The San Jose Museum of Art is an art museum in Downtown San Jose founded in 1969. It hosts a large permanent collection emphasizing West Coast artists of the 20th- and 21st-century. The museum's historic wing was originally designed by architect Willoughby J. Edbrooke and built as the San Jose post office in 1892, then served as the city's library from 1937 to 1969. The "New Wing", comprising the majority of the current exhibition space, opened in 1991. Many of the changing exhibitions at the San Jose Museum of Art focus on the West Coast and California.

Located in the heart of Silicon Valley, a great many exhibitions are centered on the intersection of art and technology. Exhibitions and individual installations typically remain on view between 4 to 6 months. The collection includes more than 2,000 works in a variety of media, including sculpture, paintings, prints, digital media, photographs, and drawings by artists such as Robert Arneson, Milton Avery, Gregory Barsamian, Joan Brown, and many more.

In 2007 the San Jose Museum of Art won the prestigious MUSE award from the American Association of Museums Technology Committee.

Opening hours: Tuesday – Sunday: 11 am – 5 pm.
San Jose Museum of Art on Map
Walking Tours in San Jose, California