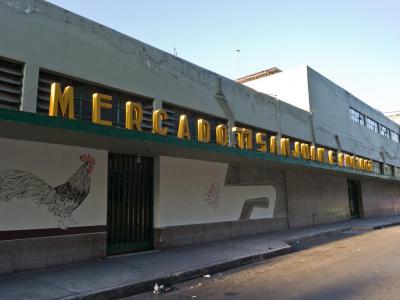 San Juan Market, Mexico City
Built in 1955, San Juan Market is one of Mexico City's oldest marketplaces. Originally established to regulate sales by small-scale vendors, it is located in the heart of the historic center near San Juan Plaza. Its origins in offering fine foods date back to the early 20th century when it was situated on the grounds of the former Buen Tono cigar company's warehouses, officially dedicated by its previous owner, Ernesto Pugibet.

The San Juan Market is distinct from others due to its unique specialization and clientele. Originally centered on basic foodstuffs, it evolved in the 1970s to serve chefs, gastronomy students, restaurateurs, and food enthusiasts, many from abroad. They've developed lasting connections with specific vendors offering gourmet and exotic delicacies, some of which are exclusive to this market. Its male-dominated customer base earned it the nickname "men's market."

At this lively market, visitors enjoy a wide range of meats and fish, including local delicacies and rare imports like iguana, skunk, deer, rabbit, crocodile, and more. There are even uncommon items not typically found in Mexican cuisine, such as ostrich, buffalo, lion, and tiger meats, sourced from both local and international suppliers.

The San Juan market offers a wide variety of poultry, seafood (including caviar), and traditional pre-Hispanic insect staples like tarantulas, scorpions, grasshoppers, and more. They can be enjoyed in various dishes, tacos, or as garnishes.

In addition to its impressive meat and seafood sections, the market boasts an abundance of fruits, vegetables, edible flowers, and herbs, many of which are sourced from abroad to cater to diverse international cuisines.

Opening Hours:
Monday - Sunday: 7:00 am - 6:00 pm.
Walking Tours in Mexico City, Mexico
Useful Travel Guides for Planning Your Trip
--- Souvenir Shopping Guide: 17 Must-Buy Local Products from Mexico City
Both historic and modern day Mexico's are worth each other in terms of cultural and artistic heritage. The country's capital Mexico City is a showroom of what the label "Made in Mexico" stands for in its entirety. Whether it's authentic food, drink or piece of craftsmanship... 10 Must-Try Mexican Foods in Mexico City
While Mexico is a treasure trove in terms of cultural and artistic heritage (ancient history, architecture, etc.), the vast majority of visitors to the country are lured mainly by, let's face it, bodily pleasures. The latter are manifested in the form of sandy beaches, sun and, most...