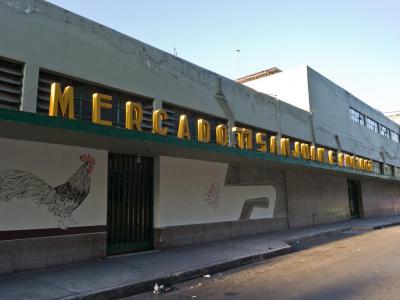 San Juan Market, Mexico City
Built in 1955 as part of the city authorities' efforts to regulate sales by small vendors, the indoor San Juan market is one of the oldest in Mexico City. Located in the heart of the historic center, it takes the name from the adjacent San Juan Plaza. The actual selling of fine foods at Ernesto Pugibet Street dates back to the early 20th century, and initially took place on the site of the former warehouses of the Buen Tono cigar company, officially named after the former owner of the land, Ernesto Pugibet, who ceded it to the city.

While similar to other community markets in terms of appearance and internal arrangement, the San Juan market is distinguished for its specialization and clientele. Initially it specialized in basic foodstuffs, however, starting the 1970s, it has been catering mostly to chefs, gastronomy students, restaurateurs and foodies, many of whom are foreigners with long-standing relationships with particular vendors who offer gourmet and exotic foods. Many of the products sold here can be found in just a few or no other places in the city. Because of the vast majority of the clientele being male, the San Juan is jokingly referred to as the "men's market."

Here, you can come "up close and personal" with practically every meat or fish you can imagine, from indigenous delicacies to rare foreign imports. Among these are iguana, skunk, deer, rabbit, suckling pig, goat, lowland paca, wild boar, venison or crocodile, as well as the rarely found in the Mexican cuisine ostrich, buffalo or even lion or tiger! The exotic meats are sourced both, in Mexico and internationally.

Among the poultry sold here are fresh quails, Cornish hens, ducks, pigeons, geese, turkeys, doves, as well as eggs from various types of birds. The market also has some of the finest seafood selections in the city, both Mexican and imported, including caviar. Alongside this, there is a galore of insect staples of the pre-Hispanic diet like taratulas, scorpions, cockroaches, grasshoppers, maguey worms, and escamoles (ant larvae, also known as "Mexican caviar"). The insects are most commonly eaten like chips, served in tacos, or used as an adornment for other dishes.

Other produce includes fruits, vegetables, edible flowers and herbs, many of which are from foreign sources for international cooking. Also, there are seasonal Mexican specialties, such as wild mushrooms, that fill the stalls in July and August.

Tip:
If you're queasy about blood or raw meat, this is not your place.

Operation Hours: 9:00 - 17:00 Daily
Sight description based on Wikipedia.
Walking Tours in Mexico City, Mexico
Useful Travel Guides for Planning Your Trip
--- 10 Must-Try Mexican Foods in Mexico City
While Mexico is a treasure trove in terms of cultural and artistic heritage (ancient history, architecture, etc.), the vast majority of visitors to the country are lured mainly by, let's face it, bodily pleasures. The latter are manifested in the form of sandy beaches, sun and, most... Souvenir Shopping Guide: 17 Must-Buy Local Products from Mexico City
Both historic and modern day Mexico's are worth each other in terms of cultural and artistic heritage. The country's capital Mexico City is a showroom of what the label "Made in Mexico" stands for in its entirety. Whether it's authentic food, drink or piece of craftsmanship...