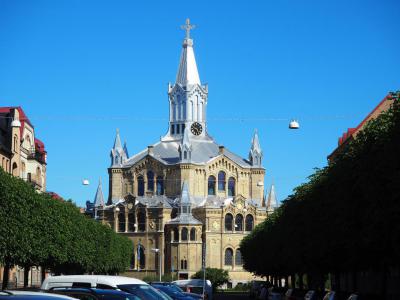 Sankt Pauli Kyrka (Saint Paul Church), Malmo
St. Paul's Church in Malmo was designed by Emil Viktor Langlet, and constructed from 1879 to 1882.

In accordance with the Christian tradition, it was built near a body of water – a shallow lake, Östra Rörsjön, that was once located outside Malmo Fortress – and from where the baptismal water could be taken. Set on the large piles in the soggy soil, the foundation now sinks a few centimeters every year. The church's cemeteries, for the same reason, had to be placed some distance away, in the southeast, to avoid the spread of diseases.

The church is built of yellow brick, and has a hexagonal shape with a big tower in the middle, symbolizing Jesus, surrounded by twelve smaller towers that symbolize his disciples. At the top of the main tower is a gold cross with a wreath to remind us of the flame of the Spirit of God and the first day of Pentecost.

Originally made of copper and painted gray, the roof was later repainted in green, thus creating the illusion of patina. In 2013, the roof was redone in aluminum, whose silvery color is eventually expected to matt to a shade of gray, similar to the original. The church itself is quite spacious, enough room to accommodate up to 1200 people.

Inside, a baptismal and devotional chapels are decorated with elaborate paintings depicting various Biblical stories and scenes from the apostolic works. The illumination is done by Art Nouveau lamps from the 1920s. The church has a communion jug, donated by King Oscar II. The side chapel windows were painted in the 1950s. In the right side chapel there is also a memorial plaque with the names of the parishioners who perished at sea during World War II.
Sight description based on Wikipedia.
Sankt Pauli Kyrka (Saint Paul Church) on Map
Walking Tours in Malmo, Sweden